Filter Reviews
5 star rating

4 star rating

3 star rating

2 star rating

1 star rating
Warning to "STEPPERS"!!
Review by William F. on 24 May 2020
review stating Warning to "STEPPERS"!!
Rattlers bite back, NO STEP ON SNEK!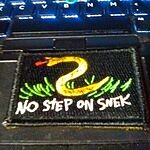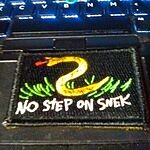 Great quality
Review by Eric L. on 18 May 2020
review stating Great quality
Satisfied, the patch is made of very fine quality. The material of isn't cheap and feels official. The fact that they had the no step on snek meme is awesome. The design is great. They had a great selection but could use a little more meme patches imo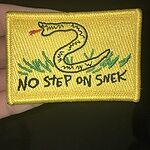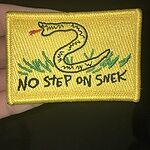 Nicholas M.
5 star rating
Great patches
Review by Nicholas M. on 23 Jan 2020
review stating Great patches
Loved this patch so much we got two! And now we plan on buying some for our friends who had asked where we got them because they loved them so much!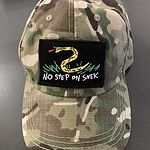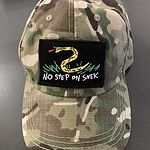 Just love it!
Review by David F. on 19 Jul 2018
review stating Just love it!
Who doesn't have a Gadsden patch or three already? I switch them out on my hat every now and then, but this little guy lets me change things up, get a nice laugh from people both in the know and not. Great thing is, I've found it's a great opportunity to educate and enlighten those who aren't familiar with what the patch is based off. We might be having a bit of a laugh here, but the underlying message is deadly serious, and the more people understand that the better our nation will be. All and all, just a great little patch. Go ahead and pick one up, you won't regret it.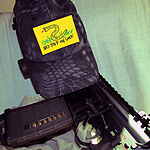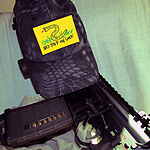 Awesome Patch
Review by Janice P. on 8 Jul 2018
review stating Awesome Patch
This patch is great - ordered 1 for me and then my wife asked for 1 for her. Outstanding quality and service from Gadsen & Culpeper. Our older Aussie Dixie was bitten by a copperhead so now our younger Aussie Rowdy wears this patch as a reminder to NSON! Love the take on the DTOM theme.