Filter Reviews
5 star rating

4 star rating

3 star rating

2 star rating

1 star rating
these Folks are top shelf.
Review by Steven S. on 12 Aug 2018
review stating these Folks are top shelf.
I ordered a sticker/decal pack from these folks. The quality of the items, ,timely fashion they were shipped and the follow up on delivery and my satisfaction were unmatched. All this on a paultry $10 purchase,
if they're level of service is this good on a small order , Imagine the level of service they give on a more profitable order.
these folks get all the points!!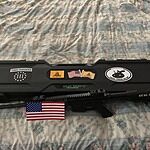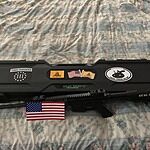 Awesome quality
Review by Donald M. on 27 Jan 2020
review stating Awesome quality
Great looking patriotic stickers and gear!!!
Great value
Review by Matthew B. on 27 Dec 2019
review stating Great value
Even if you don't want to display them all, there are several in there that make the purchase worthwhile.
Great Quality
Review by Brandon B. on 27 Nov 2019
review stating Great Quality
Solid stickers excellent price
Good quality
Review by Scott C. on 19 Oct 2019
review stating Good quality
I like the quality of the stickers. I did however have one which had some permanent smudges. That is why I did not give a 5. My favorite is the American flag beside the Don't tread on me flag. It could be nicer as well if it reflected light. Thanks Guys you are the bomb!!