Filter Reviews
5 star rating

4 star rating

3 star rating

2 star rating

1 star rating
Great product, but quality is inconsistent.
Review by Parker K. on 21 Jun 2019
review stating Great product, but quality is inconsistent.
First off, I want to lead by saying that I love this product. It's simple, well constructed, cheap, and looks great on my tactical caps and backpack. However, recent purchases have unfortunately forced me to question the reliability of the warehouse that produces and houses these patches. Initially I ordered a pack of about seven. Of those seven, five were great, but two came with what looked like desktop stamp ink permanently etched into the patches, making them unwearable. After I sent an email to customer service they were happy to refund the two patches and send replacements. If those two replacements, unfortunately, one was fine while the other was not. The full color American flag was discolored on the outside, giving it an appearance of green as opposed to yellow. So, in short, great product, great customer service, but unreliable in terms of quality. See photos if you're curious.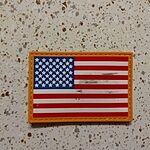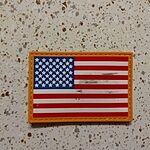 Best looking patch
Review by C. M. on 22 Jun 2020
review stating Best looking patch
Best looking patch
Old Glory
Review by Timothy H. on 14 Jun 2020
review stating Old Glory
Excellent product, great price.
Arrived on time.
Gfghb
Review by Andrew N. on 23 Oct 2019
review stating Gfghb
Gfghb
A++
Review by Wendell R. on 27 Sep 2019
review stating A++
They do good work. Great quality fast shipping. Made in the good old USA