Filter Reviews
5 star rating

4 star rating

3 star rating

2 star rating

1 star rating
Thank you Betsy Ross
Review by David M. on 23 Sep 2019
review stating Thank you Betsy Ross
It has been a few year since your sewing exercise to produce the first true American flag. She still lives on with the spirit and resolve of 1776. The original 13 stars and 13 stripes live on within our 50 star and 13 striped flag today. Just look deep, it is still there. Thank you for being the first symbol of America and living on for over 200 years.
And thank you, Gadsden and Culpeper for making this Betsy Ross flag and available for every American to display.
Quality superb. Material excellent. Craftsmanship outstanding.
Thank you for keeping our flag alive.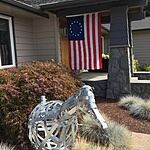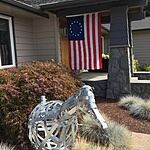 OLD OLD GLORY
Review by Sean L. on 30 Sep 2019
review stating OLD OLD GLORY
This flag was created and carried by a generation of world changing contenders. This beautifully crafted high quality replica is an affront to modern pretenders as it embodies values that represent everything that they are not.
Betsy Ross flag
Review by John G. on 20 Sep 2019
review stating Betsy Ross flag
Outstanding workmanship! Sturdy and well made, will be flown daily. Thank you for an American made product that is well made and not expensive. Worth every penny!
Awesome Flag as advertised!
Review by Michael W. on 18 Aug 2018
review stating Awesome Flag as advertised!
Love this Flag, especially in the 4 ft x 6ft size, with this flying, there is no doubt about how you feel about our Republic!
Betsy Ross Flag
Review by John G. on 9 Jun 2018
review stating Betsy Ross Flag
Great looking flag! It also arrived earlier than expected. Will flag this beauty on the Army's Birthday, July 4th, Veterans Day & Memorial Day.