Filter Reviews
5 star rating

4 star rating

3 star rating

2 star rating

1 star rating
Great Flag
Review by DOUGLAS N. on 18 Jun 2018
review stating Great Flag
We really enjoyed this flag high quality at a reasonable price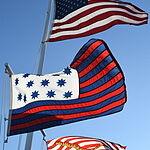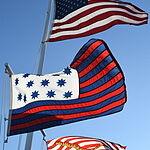 As advertised
Review by Robert R. on 22 Dec 2019
review stating As advertised
Great product.
First Navy Jack Flag
Review by James C. on 14 Oct 2019
review stating First Navy Jack Flag
Great quality. Fast delivery. I'm a customer for life. God bless our country. God bless our navy. God bless the best that both stand for.
Navy Jack flag
Review by James B. on 25 May 2019
review stating Navy Jack flag
Thank you for allowing me to fly the flag at my home which I was honored to have flying on my ship, the USS KITTY HAWK!
Great All American Flag
Review by Andrew P. on 26 Mar 2019
review stating Great All American Flag
Great quality, Made in USA Flag. Very fast shipping