Filter Reviews
5 star rating

4 star rating

3 star rating

2 star rating

1 star rating
Customer for life
Review by Gazaway on 2 Aug 2018
review stating Customer for life
My small order was handle like I bout a Ferrari arrived and not only did I have the patch of the month I got a free sticker you guys rock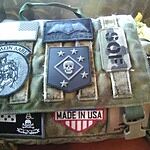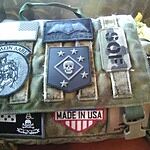 Love it!
Review by Jason B. on 12 Jan 2019
review stating Love it!
Added to my road kit bag, looks great!
Redneckgrl3
5 star rating
Patriotic Beauty
Review by Redneckgrl3 on 2 Nov 2018
review stating Patriotic Beauty
It's an absolutely beautiful patch. Patriotism is wonderful and this helps my husband further display his love for this country.
Jonathan H.
5 star rating
Totally awesome
Review by Jonathan H. on 5 Aug 2018
review stating Totally awesome
The patch is crisp clean and AWESOME
Quality item-great price
Review by Ben T. on 19 Jul 2018
review stating Quality item-great price
This patch is just one of several items I've received from G&C. I have yet to be disappointed. This is a quality item with vibrant colors. The prices here are outstanding; value for my hard earned money.