Filter Reviews
5 star rating

4 star rating

3 star rating

2 star rating

1 star rating
Stand up stand out
Review by Jack C. on 25 Nov 2019
review stating Stand up stand out
This is the second or third time I have ordered the Navy Jack plate. Love it. I'll keep buying them as love as you offer them. Thanks!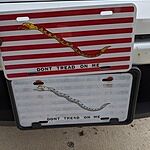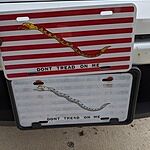 almost perfect
Review by Mark L. on 3 Mar 2020
review stating almost perfect
every thing is great but I Bought it for a friend, but my Gadsden flag on my truck faded too quickly so I gave my replacement several coats of clear lacquer, that fixed the problem so I also did it to the navy Jack. here are some pics of my truck 1 before and 2 after. I trimmed out the grill in yellow to match the plate, you can't see the rims but I also did them in yellow to match. I have gotten a lot of compliments.
Great plate!
Review by David G. on 5 Feb 2020
review stating Great plate!
I'm on my third! I'd like to see a frame to compliment it. Thanks.
License Plate
Review by Dennis A. on 30 Nov 2019
review stating License Plate
Absolutely love it. Can't wait to put it on my vehicle.
👍🏻👍🏻👍🏻
Review by Howard S. on 19 Jul 2019
review stating 👍🏻👍🏻👍🏻
👍🏻👍🏻👍🏻